Learn and Master Adobe InDesign from Scratch for Free
It is said that "a picture is worth a thousand words", what about a whole brochure full of them? The importance of images and visual graphics in today's world has become undeniable. While the text is still important, images help bring the words to life.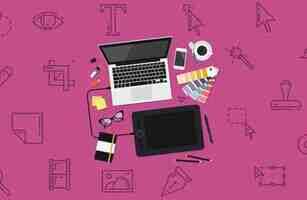 But, you can't draw? Well no problem. All that is important is your creativity!
For the rest, there is InDesign.
Adobe InDesign is a publishing software that allows creating innovative works such as posters, newsletters, leaflets, brochures, newspapers, e-books, magazines and so much more. The software allows you to create the layout in a digital format, so that you will know exactly what you will get on paper.
From text to images to typography, know where what is going to be. No longer do you have to stumble for words to explain your imagination, you can simply whip up a layout and send it to the printers.
Although, it was originally created for Graphic Designers and Production artist, who are still primary users, this technology has become a hit even with the laymen because of its simplicity in terms of use.
Where can you get your hands on learning this amazing technology? You've come to the right place!
Our InDesign course is the perfect place to learn this groundbreaking technology from scratch. From the basics to the advanced concepts, we've got your covered. Learn the InDesign software and its interface, get familiar with its various design tools, work with the different panels, learn how to customize menus and utilize workspaces, formatting text, anatomy of a text frame, working with fonts, guides, QR codes, and so much more.
The course is packed with everything you need to know to master the InDesign software – from basic introduction to the technology to actually creating masterpieces and exporting it to PDF or EPub. It is THE COURSE to learn InDesign from start to finish!
In this course you will learn:
The ins and outs of the InDesign interface
Learn various features of InDesign including tools, panels, menus, workspaces, navigating, etc.
How to create documents, mastering pages and sections
Learn various keyboard shortcuts and unlimited undos
Understand what is a text frame, the anatomy of the text frame, how to place text and how to modify text
Where, how and where to use different tools
Modifying and working with different fonts
Incorporating graphics within the document and working with text
Styling paragraphs, characters, nests, objects, etc.
How to export the document into different formats for printing
So, do you have creativity seeping out of ears? Here's your chance to put it to good use. Click enroll now and let's see that creativity shine!
Introduction to InDesign CC
Details
Have you ever seen a terrific-looking brochure or newsletter and wondered how it was made? Chances are the designer used Adobe InDesign CC, the industry-standard desktop publishing software now available through the Creative Cloud.
In each lesson, you will learn an important aspect of InDesign CC and prepare a range of print and online products for a fictional company. You will get dozens of files to work with, including a partially completed InDesign document used to start each lesson. Then you will use the downloaded graphics, images, fonts, and other content to complete the project. To check your work or troubleshoot any problems you encounter, you will always get a copy of the finished InDesign project file.
Lesson by lesson, you will discover how the program features relate to producing actual usable documents. You will explore the best ways to create different types of material, how to reuse items such as colors and artwork, and how to produce publications for different page sizes and devices. You will come away knowing how to use this popular page layout software to design and create professional-quality letterhead, business cards, brochures, forms, interactive PDF files, an eBook, and more.
10+ Best InDesign Tutorials For Beginners — Learn InDesign Online
10+ Best InDesign Tutorials For Beginners — Learn InDesign Online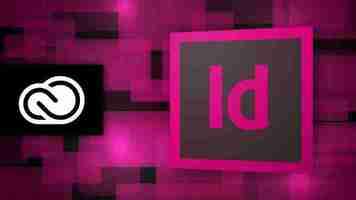 Learn how to use Adobe InDesign Tool with the best Indesign tutorials for beginners in 2021
Adobe InDesign is the industry-leading page design and layout toolset that lets you work across desktop and mobile devices to create, preflight and publish everything from printed books and brochures to digital magazines, iPad apps, eBooks, and interactive online documents. The strength of InDesign lies in its ability to handle long documents with dozens or even hundreds of high-resolution images without any sign of delay or slowing down, and also its immensely powerful typographic features that allows users to refine the copy they work with to the last tiny detail.
Build professional company newsletters, brochures and long annual reports using Adobe InDesign CC.
In this course,
You'll learn to design a flyer, newsletter, brochure, annual report & business cards.
Learn how to create PDF files ready for printing.
You will get the finished files so you never fall behind.
Downloadable exercise files & cheat sheet.
Forum support from me and the rest of the BYOL crew.
Techniques used by professional graphic designers.
Professional workflows and shortcuts.
A wealth of other resources and websites to help your new career path.
You will work through real life projects starting with a simple company flyer, then a brochure & a company newsletter. You will make business cards & take control of a really long annual report.
You will work with colour, picking your own and also using corporate colours. You will explore how to choose & use fonts like a professional.
10 Best InDesign tutorials
This course teaches the tools and techniques that make the 2020 version of this powerful page-layout application so fun and easy to use.
The course includes:
Creating a Document
Managing Pages
Text
Graphics
Color and Transparency
Frames and Paths
Managing Objects
Text Formatting
Interactive Documents
You will learn the basics of Adobe InDesign. Then, the course dives into the details, including managing documents and pages, editing text and graphics, creating interactive documents and forms.
Learn the complete InDesign workflow to create PDFs, eBooks, pamphlets, and more!
In this course, you will learn:
Adobe InDesign from scratch.
how to create PDFs, eBooks, and pamphlets.
The course includes:
Getting Started with InDesign
Adding Assets
Multi-Page Documents
Tables
Advanced Techniques
Saving, Extorting, and Printing
Learn Adobe InDesign CC essentials and editorial design. Master Adobe InDesign for beginners by designing a magazine.
In this course,
Design professional publications such as magazines by using InDesign
Apply editorial design principles to publications in InDesign
Use InDesign's various functions and tools to create publications and other promotional material
Produce a magazine and brochure in InDesign
Create flyers, posters, advertisements, and online magazines. Create magazines to share online or sell online through Apple. Create books to sell on Amazon. There are so many possibilities!
The course will teach on how to:
place and format text in InDesign
place and format images in InDesign
add character and paragraph styles in InDesign
flow text across pages on along a path in InDesign
use libraries and snippets in InDesign
apply color themes in InDesign
draw and adjust shapes in InDesign
add custom corners in InDesign
work with layers in InDesign
to select objects apply master pages in InDesign
package, save, export, and print files in InDesign
apply editorial design principles such as proximity, alignment, contrast, and repetition in magazines and brochures design and produce a professional magazine in InDesign
design and produce a professional brochure in InDesign do much more in InDesign
Master the art of creative page layout with Adobe InDesign CS6. InDesign training Taught by a leading Certified Trainer
This Adobe InDesign CS6 training course from O'Reilly Media teaches you how to use this powerful digital and print layout software. With the introduction of amazing new digital layout features, InDesign CS6 really is the industry standard when it comes to not only traditional media layouts, but also EPUB and other digital standards.
This training begins with how to setup preferences and work in the InDesign interface. You will learn how to start you layout and begin adding text and objects to your design. As you continue on you cover features such as formatting your text, working with tables and graphics, adding color and effects, and even making your layout interactive. Finally you cover eBooks and how InDesign can expedite creating your EPUB publications, as well as publishing or printing your layouts.
Master the Industry-leading Page Design and Layout Application. Learn InDesign from the start the way a professional would use it.
This course is going to start from the very basics like how to place text and images into a document to complex techniques like how to utilise styles, master pages, how to create automatic table of contents and so much more.
Test your knowledge with quizzes at the end of each chapter.
Practice everything you learn with provided Exercise Files.
Learn useful keyboard shortcuts and best practices.
Advanced automation techniques like GREP and Data Merge
Working with Text and Image Frames
Creative Page Layouts and Compositions
Mastering Character and Paragraph Styles
Typographic and typesetting techniques
Creating Table of Contents
Working with Books and Long Documents
Print and Digital Publishing
This advanced InDesign tutorial course is for current users who want to become amazing in Adobe InDesign CC.
In this course,
Create PDF Forms
Master Long Documents
Advanced Fonts
Master Styles
Shortcut Sheet
Create Charts & Infographics
Create Interactive Documents
Workflow Tactics
Shortcuts & Speed Tips
Advanced Creative Cloud Features
Tips for working with Photoshop & Illustrator
Using Scripts
Exporting, Prepress & Printing tricks
If you are already happy adding text & images to InDesign documents then this course is for you. Even if you consider yourself a heavy user, it promises that there will be things that will blow your InDesign mind.
You will learn advanced font tricks using Typekit & Opentype fonts, font grouping & font pairing. Mastering color features like the color theme tool and color modes as well as professional proofing for colors for print. It'll set permanent defaults for fonts, colors & will learn how to turn hyphenation off for good, once and for all.
It'll make beautiful charts & graphs for your InDesign documents. You'll learn the pros & cons of various digital distribution methods including Interactive PDF's, EPUBs & the amazing Publish Online.
You'll become a master of long, text heavy documents, autoflowing, primary text frames & smart text reflow, cross referencing, indexes, text variables & the InDesign book feature. There is entire section dedicated to how to speed up your personal workflow & how to speed up InDesign and get it running super fast.
Best InDesign Tutorials & classes
Master Adobe InDesign Creative Cloud 2018: Design an interactive lookbook, annual report, poster, and more in InDesign.
In this course,
You will master Adobe InDesign, the industry-standard graphic design and publication software.
You will professionally design and produce a lookbook in Adobe InDesign.
You will professionally design and produce a poster in Adobe InDesign.
You will professionally design and produce an annual report in Adobe InDesign.
You will effectively place and edit text, images, and illustrations in Adobe InDesign.
You will formulate and apply color schemes by using a variety of methods.
You will learn how to use spot colors, process colors, and the context for both.
You will design, format, edit, and copy tables in Adobe InDesign.
You will use Photoshop and InDesign together seamlessly, to adjust layer comps, layer visibility, and other settings of placed PSD files in InDesign.
You will use Illustrator and InDesign together seamlessly, to produce patterns and place illustrations.
You will apply preflighting and printing techniques and principles for professional results.
This course cover all the tools and techniques comprehensively, but in the context of projects. So, you will learn by designing a poster for a local business, a lookbook for a ski resort, and an annual report for a camera company.
Besides the essentials and fundamentals of InDesign, such as placing and editing images, threading and formatting text, and using master pages, you will also learn more advanced topics, including advanced color and the preflighting/printing process.
In fact, this course contains a complete guide to tables in InDesign as well as the complete guide to color in InDesign. You will also learn how to use both Photoshop and Illustrator with InDesign, in their own special sections. Adobe has made these programs so compatible, they work seamlessly together.
Become an Adobe InDesign CC Master: Learn the complete InDesign workflow to create PDFs, eBooks, pamphlets, and more!
In this course,
You will learn how to design professional publications and graphics in InDesign
Design pamphlets, flyers, eBooks, PDFs, magazines, brochures, and more
Become comfortable using all of the important InDesign tools and functions
You will learn the proper workflow from starting a project to exporting it
You will have fun while learning, with easy-to-follow real world projects
You'll learn:
i. Navigating the workspace and panels
ii. Starting a new project
iii. Adding photos, text, and graphics to your designs
iv. Adjusting assets like a graphic designer would
v. Creating multi-page documents
vi. Using tables to clearly display complicated data
vii. Saving and exporting your project for any purpose
And many more advanced techniques!
Ideal for beginners to Adobe InDesign. Learn how to create, edit and prepare print-ready documents in ten simple steps!
In this course,
Go from complete beginner to confident InDesign professional in just 35 lessons
Develop an understanding of how to create, format and prepare InDesign documents for print
Learn a set of essential skills that will allow you to manage any print document (e.g. books, booklets, reports) in InDesign from start to finish
Have a solid foundation in managing pages, Masters, text, images, color and effects to create polished, professional InDesign layouts and artwork
Build upon basic knowledge with special tips and tricks used by professional graphic designers
Prepare faultless, professional print-ready documents that will make your printer smile!
This course, aimed at complete beginners to InDesign, will lead you through the process of creating, formatting, proofing, preparing and exporting InDesign documents, ready for sending them straight to the printers. It'll cover the basics of setting up professional print layouts and working with images, typography, color and effects to create your desired result. It'll also take a look at how features like Masters, Book Files and proofing with Preflight can speed up your workflow and transform you into an InDesign Pro!
To help you along, you'll receive a course handbook, 10 Essential InDesign Skills, which is yours to keep after you've completed the course. You'll also work towards creating your own magazine layout in InDesign and receive pre-prepared, complete magazine templates for you to refer to and use throughout and beyond the course lessons.
Learn the basic functionality and interface of Adobe InDesign CC.
In this course,
Build a basic InDesign document
Customize the workspace
Modify the layout
Manage pages
Modify text
Modify graphics
Work with color
Use effects
Add and transform shapes
Manage objects and layers
Format text
Use styles
Work with tables
Export a document to other formats
This introductory course is designed to introduce students to the basic functionality and user interface of Adobe InDesign CC. In this course, Students will learn to navigate InDesign, build documents, add text and graphics, and customize the workspace. Students will also learn to modify the layout, manage pages, modify text, modify graphics, work with color, apply effects, and add and transform shapes. In addition, students will learn to manage objects and layers, format text, use styles, work with tables, export documents, and prepare for printing.
Learn the advanced features and functionality of Adobe InDesign.
In this course,
Perform Advanced Document Setup
Work with Text Flow
Work with Advanced Text Options
Work with Advanced Text Styles
Work with Advanced Place Options
With with Illustration Tools
Organize Swatches
Convert Tables
Work with Long Documents
Create Interactive Elements
This advanced course will take a basic knowledge of InDesign to the next level. You will work with saving to previous versions, saving templates, and use different page sizes and sections. You'll learn to modify text flow with breaks, tabs, jump lines, and use text on a path and text outlines, and learn advanced text options. Additionally, you'll work with advanced text styles, nested styles, and understand hyphenation, justification, and keep options. You'll use advanced place options, including placing Illustrator files, InCopy and anchored objects. It includes working with the InDesign illustration tools, organize swatches, convert tables, and learning about creating interactive elements, as well as working with long documents. You can find more free and best Indesign tutorials on our website.