Differences between Photoshop, Illustrator and InDesign
Having worked for an Adobe Authorized Training Center for the last 10 years, students often ask me about the difference between Photoshop and Illustrator and InDesign. Firstly, let me say that all three programs are, in fact, owned and developed by the same company, Adobe Systems, the world leader in web design, graphic imaging and e-learning software. All three programs are also bundled together into Adobe's Creative Suite, which is a great and affordable way to purchase this software.
Part of the confusion is that certain tasks can be performed in more than one of these programs. For example, you can find vector drawing tools available inside Photoshop and InDesign, even though Illustrator is the predominant vector-based program. The key to getting the most out of these three programs is to understand their primary purposes, how their principal functions work, and how they all can be used together. Find article about adobe illustrator versus indesign in order to learn more.
In essence, the suitability of InDesign vs. Illustrator vs. Photoshop for your project boils down to the type of graphic image being created or edited and the ultimate end-product desired. For instance, even though you could probably use any of the three programs to create, say, business cards, depending upon the elements involved, one of the programs will be better suited than the other two.
To better understand what is the difference between Photoshop, Illustrator and InDesign, let's start by looking at each program separately.
Photoshop
We'll start with Adobe Photoshop, which is probably the most well-known out of the three. Photoshop is professional visual editing software primarily used to enhance and manipulate bitmap image files. Bitmap images — also sometimes referred to as raster images — are pixel-based digital images. In other words, these are computer-generated pictures that are composed of millions of tiny building blocks, or pixels. Each individual pixel is defined by attributes such as color, and it is the smallest editable unit of an image. The most common type of bitmap image is a photograph. Whether captured on film and scanned into a digital file or shot with a digital camera, photo bitmaps are made up of millions of tiny pixels.
Simply put, Adobe Photoshop is a software tool used to edit digital photographic images. Even though the program can perform many other creative tasks, the core function of Photoshop is to manipulate photos. Sometimes, the adjustments can be subtle, such as subtle lighting changes or sharpening and blurring of the image. Other times, they might be pronounced, such as applying a filter or special effect.
If you go down to your local newsagent and pick up any magazine, the chances are excellent that the images in that magazine have been polished or altered using Photoshop. Do you ever wonder why the movie stars in photos never have cellulite or double chins? Editors frequently use Photoshop to erase imperfections before publishing. Have you noticed how advertisements often contain surreal, yet life-like objects and environments? Photoshop can be used to create dramatic montages comprised of several different photographs.
Illustrator
Adobe Illustrator, on the other hand, is a vector drawing program. Vector images are the other main type of digital image. Unlike bitmaps, vectors are made up of a series of lines and shapes, which are defined as mathematical formulae. Vectors are superb for creating images that contain large sections of the same color. Such graphics as a navigation button on your website, your company logo, or any other kind of nonphotographic design is usually better off when created as a vector. Illustrator is the world's premier vector drawing tool, so if you were tasked with designing any kind of "flat" artwork, such as a corporate profile including logos, sign work, letterheads, etc., the chances are that you would use Illustrator.
InDesign
Adobe InDesign software, also a vector-based application, is the newest of the three programs. The key difference between InDesign and Illustrator is that InDesign's focus is page composition. This publishing program combines multiple elements such as images, graphics, and text to generate complex layouts for either print or digital publications, such as corporate brochures, magazines, newsletters, Powerpoint presentations, interactive PDFs, or advertisements. InDesign's specialty is working with multiple-page documents that contain large amounts of type or text. It also includes features that can help with team collaboration and brand consistency, such as access to cloud libraries, master pages for reuse and reference, and style groups for uniform designs within and across various projects.
Program Compatibility
Often, designers will use all three Adobe programs on the same project. For example, when we recently created some new course outlines, we used Illustrator to design our logo and a few other vector graphics, and we used Photoshop to apply a special shadow effect to some bitmap images. Finally, we exported all of those elements from Illustrator and Photoshop so we could use InDesign to add the text copy and define the layout.
Even if your situation isn't that linear, for example, if you need to edit an InDesign file with tools available only in Photoshop, many image file formats can be converted from one platform to another within the Adobe Creative Suite.
Personal Preference
In my classes, a student will usually sooner or later bring up the "Photoshop vs. Illustrator" debate regarding suitability for drawing and illustration. There is no one best answer; it's mostly a matter of personal preference. The apparent difference is that Photoshop has a multitude of specific tools for editing photographs. However, the fundamental difference is how the images are constructed: Photoshop graphics are pixel-based raster images, and Illustrator graphics are vector-based.
Think of it this way: Imagine two "identical" rings, one made by arranging tiny, individual pieces of paper (pixels), and the other made by looping a single piece of string (a vector). Both rings may appear to be the same, but if you wanted to change the design, the process for each would be much different. To alter the pixel ring, each individual unit would have to be moved into a new configuration. However, all you have to do to transform the vector ring is drag the piece of string into a new shape.
The actuality is much more complicated, but the software is so powerful that most of the hard work is done at the ease and speed of thought. Yet, most artists and illustrators will find either Photoshop or Illustrator better suited for their styles and purposes.
Quality graphic design can make or break any company's image. Adobe Creative Suite, which includes Photoshop, Illustrator and InDesign, plus tutorials, can give you the vital edge to succeeding in a very competitive world.
Billy Gee is the Director of Training for Training Connection, which provides outstanding instructor-led training in Photoshop, Illustrator and InDesign in the Chicago and Los Angeles metro areas.
What's the Difference Between Creative Cloud 2022 vs. Older Versions?
[UPDATE (Oct. 2022) – The all-new Creative Cloud 2023 release has launched and is now available! See what's new in features and all the differences compared to older versions.]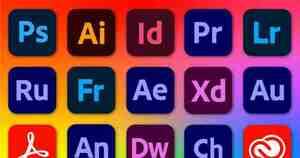 Last week at the annual MAX conference, Adobe launched the new 2022 release of Creative Cloud – and customers want to know what's new, what's different, and what's changed between CC 2022 and the previous releases. In other words, what are the key new features and advancements in the 2022 upgrade versus prior versions?
With the new release, everyone is entitled to either a free update or a free trial for 7 days. Ongoing access to these tools requires a Creative Cloud mem­ber­ship (either for one app or for all), with discounts available for education custom­ers. Adobe says there have been thousands of significant changes and updates from CS6 to CS 2022, meaning new and enhanced features, added capabil­ities, and perfor­mance improve­ments – to the key creative applications.
Special: Legally download dozens of free Adobe books for a limited time!
There are now 21 desktop appli­cations included in Creative Cloud: Photoshop, Illustrator, InDesign, InCopy, Acrobat DC, Adobe XD, Dimension, Animate, Dream­weaver, Premiere Pro, Premiere Rush, After Effects, Audition, Character Animator, Media Encoder, Prelude, Bridge, Camera Raw, Lightroom and Lightroom Classic. Almost all of the apps received full upgrades (more below).
Adobe is also unveiling significant innovations. There's now the real Photo­shop and Illustrator actually running in a web browser, online collaboration and virtual whiteboarding using Spaces and Canvas, new content attribution capabilities via the Content Authenticity Initiative, and batch automation of repetitive imaging tasks using Project Aspen. Please see the table below for what's new in each Creative Cloud tool.
In addition, subscribers to the All Apps and Single-App plans over $20 now receive the premium version of Creative Cloud Express at no extra cost. This new product can save some serious time and effort.
And it's not a new app, but it's an incredible resource that keeps getting better: the Adobe Stock Free Collection now boasts over 1 million top-notch images, vectors, illustra­tions, templates, 3D models, and videos available to everyone at no cost and completely royalty-free. Check it out and start downloading here!
Install now: Get all new Creative Cloud 2023 direct download links and free trials.
Other top tools and services continue to be included in Creative Cloud 2022 as well, such as Adobe Fonts with over 22,000 premium fonts for unlimited use (a $100/year value), 1,000+ creative brushes from award-winning illustrator Kyle T. Webster, your own Adobe Portfolio website, plus Behance to show­case (and even sell) your work and talents online.
If you want to try any of the CC apps out, then just sign up for a free level of Creative Cloud membership to gain access. For learning how to best use the products, there are plenty of free tutorial videos, and even dozens of completely free books that you can download for all of the most popular applica­tions. And don't forget that all products include ongoing upgrades at no extra cost, so you can always be running the latest and greatest versions.
Feature Comparison: Creative Cloud 2022 vs. Previous Releases
So here they are, the feature breakouts by individual product – what's new including version comparisons and differences between Creative Cloud 2022 vs. the 2021, 2020, 2019, 2018, 2017, 2015, 2014, 2013, and CS6 releases:
For more details on the essentials and differences, don't miss our Creative Cloud 2022 Review Guide.
Download now
The System Requirements Have Evolved
You should also know that the minimum system requirements have changed meaning­fully both on both Windows and Mac, in order to take advantage of the latest operating system features and technologies… On Macs, the CC 2022 release now requires macOS 10.15 (Catalina) or later. If you're not yet running a compatible version of macOS, then you can get a free upgrade directly from Apple to Catalina. Be aware, however, that in Catalina, Apple has dropped support for any older 32-bit programs that you may have. macOS 11.0 (Big Sur) and the newly-launched macOS 12.0 (Monterey) are supported by Adobe as well.
On PCs, Windows 10 (version 1909 or higher) is a fully-supported platform for all Creative Cloud applications. Windows 11 is supported with some caveats. Importantly, except for Acrobat DC, the CC 2022 apps do not support 32-bit or any Windows 7 or Windows 8 operating systems.
Adobe explains that focusing their efforts on more modern OS versions allows them to concentrate on developing the features and functionality most requested by members, while ensuring peak performance that takes advantage of modern hardware. For more details, please consult the complete CC 2022 System Requirements. If these specifications don't work for you for some reason, then you can continue to use the older CC 2021 applications, or even CC 2019 or CC 2018.
What's New in Creative Cloud? Plus See the Adobe MAX Highlights
See Also
Do you have any questions about Creative Cloud? Just ask below and we'll get you answers fast!
Keep up with the latest on Adobe software — follow us on Facebook or Twitter, or subscribe to our RSS feed… You can also enter your email and have new articles sent directly to your Inbox. We are reader-supported; when you buy through links on our site, we may earn an affiliate commission.
Adobe Overview: When you should use Photoshop, InDesign and Illustrator and what are the differences? — Untethered Design Studio, LLC
The Adobe Creative Suite is an all-encompassing software platform (that is strictly cloud-based now) and is absolutely the industry standard in today's design and branding world. Whether you need to create social media graphics, a mockup for your website, a downloadable PDF to host on your website or a logo identity, Photoshop, InDesign and Illustrator all have you covered!
If you don't already have the programs downloaded, you can download free trial versions here (good for one week):
As stated by Adobe, Photoshop is meant for image editing and compositing. InDesign is intended for page design, layout and publishing and Illustrator focuses on vector graphics and illustration. Below, I'm quickly breaking down specific documents and materials that you can create in each one (that you might not have already been aware of) — and also when and why you should. Each program serves unique purposes and all can play well together.
Photoshop: As you can probably guess, this is the go-to tool for editing photos. Do what you need to do when it comes to cleaning up a photo before you print it or use it within its sister programs, InDesign or Illustrator. You should know that it's a raster editor, which means it's perfect for working with an image that is made up of a certain amount of pixels — which changes the quality when it's resized. Beyond all of the ways that it can alter photos, it's also handy for creating web-based graphics. I create all of my social media images (Facebook cover photos, Instagram posts and more) as well as blog graphics and any web banners, icons or online ads. I also use it to create website mockups or email newsletter layouts that I will then pass off to be coded by a developer. When it comes to creating graphics that will be printed, however, I open InDesign.