Five years in the making and six months on the market, Cox Automotive's Accelerate online shopping tool has expanded to include nearly 3,000 dealerships nationwide. And it's paying off for the finance and insurance department.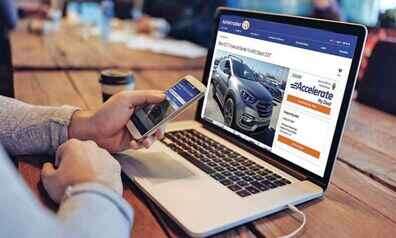 F&I profit per vehicle at dealerships using Accelerate has increased 53 percent, Autotrader General Manager Jessica Stafford told Automotive News .
Shoppers using Accelerate can receive a value for their trade-in through Kelley Blue Book's Instant Cash Offer, view content on F&I products with dealership-specific pricing and secure online financing and approvals.
Accelerate also lets consumers calculate monthly payments through several metrics, accept terms of a deal, reserve a vehicle with a deposit and schedule an appointment to test drive the vehicle and complete the purchase.
Accelerate is available to more than 2,200 dealerships through their Autotrader and Kelley Blue Book listings and to about 575 dealerships through their Dealer.com-powered websites.
After a pilot launch of Accelerate for Las Vegas dealerships using Cox Automotive's Autotrader and Kelley Blue Book websites in March, more than 10,000 vehicles — roughly 43 percent of Autotrader's Las Vegas inventory — were available with Accelerate.
In August, 15 percent of Autotrader's total inventory — or more than 560,000 vehicles — was listed with Accelerate.
Source of the article:https://www.windowautomotiveproducts.com/cox-rolls-out-online-shopping-tool