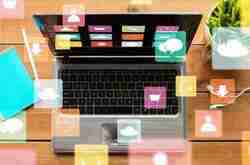 Are you not a fan of the standard Windows icons? It is possible to create custom icons for your desktop using any image editor, from Paint to Photoshop. It all depends on the amount of custom you want, and your ability to use certain software. In this article we will present a free online tool that you can use to create icons with transparent backgrounds in a few minutes and download them directly in the .ico format (the icon format).
How to Create Custom Icons
If you want to create custom icons with Paint, look here.
Iconizer
Iconizer is a customizable icon generator that you can access from your browser. On the website, you will find a search engine where you need to enter keywords about the type of icon you want. For example, to change the Windows Media Player icon, you can try "player" and click Search icons .
Next, explore the results and select one to customize.
In the icon edit window, you can modify its color, brightness, saturation, transparency, size, angle of rotation and background color . It is important that you select the top square, indicated with an arrow, so that your icon has a transparent background. Make sure the file format is .ICO , then click Download to download it to your hard drive.
IcoFX
IcoFX is a more advanced icon editor that offers you specialized design tools, with different brush strokes, 1024x1024 resolution and PNG compression. Currently, it is only possible to use its free version for 30 days and afterwards its license costs € 30.00. To know more about its features, follow this link.
How to Add a Custom Icon to Your Desktop
Check the location of your .ico file. It is most likely in your Downloads folder if you just downloaded it from Iconizer. Next, identify the folder or shortcut you want to customize either on the desktop or in Windows Explorer and proceed as follows:
If it is a folder , right click on it, select Properties > Customize tab> Change icon < / bold>> Browse and here you can select the image you downloaded from Iconizer. Then click OK .
Change the icon of a shortcut with a right click and press Properties > tab Shortcut > button Change icon < / bold>> Browse and select the file in .ico format. Then press OK and, in the last window, OK again.
Photo: © dolgachov - 132RFom