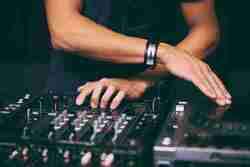 With advancements in digital DJ'ing, there is now a lot of software available for mixing music, adding effects and recording the mixed tracks.Virtual DJ is a popular option that comes with an ergonomic user interface, plug-ins and options to change skins. This can be downloaded easily for free from the official site and it works on every Windows platform. Read on for our reccomended programs and how best to use this software.
Atomix Virtual DJ
Virtual Dj from Atomix is the best known software for mixing music, adding effects and recording mixed tracks. It has a user-friendly interface with changeable skins, plug-ins and a lot of customisable settings.
Download Virtual DJ from the official website
Note: Virtual Dj is available on a trial version and is compatible with all version of Windows.
DJ MIX Lite
Download DJ MIX Lite here
After the program has downloaded, run DJ Mix Lite
You will need music that is saved in one of the following formats: MP3 WAV OGG
Click on File > Open and select some songs to play
Click Song Selection and choose Mix with selected now - the first track will start automatically
Other options on DJ Mix Lite:
To find out how many tracks are still to play:
Click Song Selection > Statistics
To save your mix:
Click File > Save As and create a title for your compilation
and create a title for your compilation Choose a location for the file and click Save
Image © 123rom