UK-based GoCycle has just announced its 4th generation of fast-folding ebikes, which look set to further refine the company's current format of two-wheelers.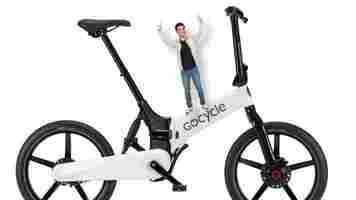 Despite their hefty price tags, we're fans of GoCycle's range of folding bikes. They're unique, well-designed, and practical. But yeah, that price tag, they're some of the most expensive bikes in their class on the market, there's no denying that.
We haven't had the chance to get our hands on one of the new GoCycle's yet, but based on the information we have at the moment, it seems there won't be any major changes over the previous Gx models. Instead, the G4s get a series of subtle updates that see them drop some weight, and gain some power.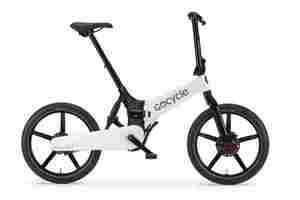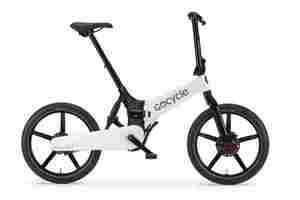 Let's take a look at what's new.
Model lineup
There are three models in the G4 family, the standard G4, the G4i, and the range topping G4i+. Those familiar with smartphone naming conventions will feel quite at home here.
Before we get to the new features, let's address the elephant in the room: the price. Check them out below.
G4 MSRP: $3,999
G4i MSRP: $4,999
G4i+ MSRP: $5,999
Like I said, they're not cheap, but you are getting one of the highest tech ebikes on the market. For reference, the GXi, similar to the G4i, retailed for $4,799, so prices have gone up a little over the previous models.
As with the previous generations, the GoCycle G4s are powered by a front-hub motor, that'll get you going as fast as your local ebike regulations allow.
GoCycle says its new "G4drive" motor is smoother and quieter than previous models. Whilst the noise of the GX was never an issue, it was slightly noisier than other contemporary ebikes.
The motor has also been revised to offer more torque at lower revs . This should mean that the motor picks up a bit quicker as soon as you start pedaling.
What's more, the new GoCycle charges its battery faster than ever before. The G4 now charges in just three and a half hours, compared to the four to seven hours required for the GX range.
Lighter frame
For the G4, GoCycle is also revising part of its frame design.
Aesthetically, the G4 looks very similar to the GX. However, its mid-frame, the part that connects the drivetrain and the large front section has been updated and is now made from carbon fiber.
The carbon fiber front fork has also been reengineered to save weight.
Altogether, these weight savings add up to 2.2 lbs (about 1 kilogram). Overall, the G4i weighs 36 lbs (just over 16 kg). This puts it in the same ballpark, weight wise, as the Specialized Turbo Vado, an ebike that my colleague Napier lauded for being so light, that he forgot it was an ebike .
Thanks to how compact the GXi folds down, I never found it a challenge to lift it up the stairs into my house, but one less kilo is always a welcome addition — or should that be a reduction?
Phone features
The G4 range also feature a couple of neat improvements for smartphone integration. There's an integrated one amp USB port, so you can charge your phone on the go.
GoCycle has also introduced low energy Bluetooth standards to provide better phone and app connectivity, it should also help battery life too.
Final thoughts?
Putting the new motor to one side, most of GoCycle additions to the G4 are neat incremental improvements that add another layer of usefulness and practicality to the already pragmatically designed bikes.
It's not surprising given that the company has been working on this design for over a decade now, and the G4 represents the most refined version of the platform.
The new motor is by far the most notable change to the G4 over the outgoing GX models. For that, the proof is in the riding. We'll be waiting to get our hands on a review unit to see how much it has improved, and whether that $200 increase is worth it.
If GoCycle's claims of improved torque, and swifter engagement of the assistance are true, there won't be much left to refine.
Do EVs excite your electrons? Do ebikes get your wheels spinning? Do self-driving cars get you all charged up?
Then you need the weekly SHIFT newsletter in your life. Click here to sign up .
Escooter operator Voi will fine users for unsafe parking
This article was originally published by Christopher Carey on Cities Today , the leading news platform on urban mobility and innovation, reaching an international audience of city leaders. For the latest updates follow Cities Today on Twitter , Facebook , LinkedIn , Instagram , and YouTube , or sign up for Cities Today News.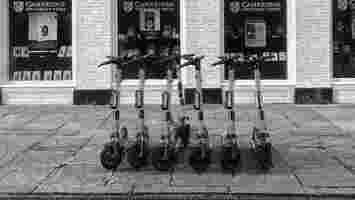 Micromobility operator Voi is rolling out a new app feature to encourage escooter users in the UK to park correctly or risk a £25 (US$35) fine.
The 'end of ride photo' feature requires users to submit a photo of their scooter after each ride, to ensure they are parked in a safe and appropriate manner.
Those who leave e-scooters lying on the ground or parked obstructing the pavement will receive an email containing a warning and an educational message.
If the reckless parking is deemed serious, a £25 fine will be issued for a first-time offense. In all other cases the rider will first receive a warning, and only be fined if they park incorrectly a second time.
Paula Santos, Senior PR Manager, Voi, told Cities Today: "We don't want to police people, our role is to make sure that everyone has the best possible experience. This is just a way for us to ensure that people are aware."
Voi currently operates in 18 cities across the UK as part of the government's e-scooter trial scheme introduced last summer.
In March the firm apologized after a number of complaints were made about pavements being blocked in Bristol, forcing pedestrians into the road.
Complaints were made by residents as well as groups representing the blind and elderly, who raised concerns about access.
Transparency
Money collected from fines goes to Voi rather than local councils, and the company would not confirm the number of penalties it has issued in the UK to date.
It insists, though, that fines are issued only as a last resort, and in most cases users receive a warning first and are only fined for a second offense.
Current government guidance on the e-scooter trials does not reference rules or procedures for improperly parked devices, and fines are at the discretion of operators.
Rules regarding e-scooter parking vary across the UK, with some cities, including Bristol, requiring designated parking zones for e-scooters.
In Northampton, Voi operates a 'free-floating' model, where riders can leave e-scooters anywhere (provided they are not blocking access), but also has an incentive scheme where riders can earn credits for parking in designated 'zones'. Credits can then be used to access free e-scooter rides.
Besides the no-park, incentivized or mandatory parking areas created through geofencing technology, Voi claims it was the first company to install e-scooter parking racks in the UK.
Currently, the parking racks can be found in Northampton, Southampton and Portsmouth, and the operator has plans to install more in other cities where it has trials this spring and summer.
Do EVs excite your electrons? Do ebikes get your wheels spinning? Do self-driving cars get you all charged up?
Then you need the weekly SHIFT newsletter in your life. Click here to sign up .
What's a 'digital twin'? And why do we need it for EV batteries?
Although lithium-ion batteries have long been the focus of EV development, issues such as battery aging and safety still aren't fully understood.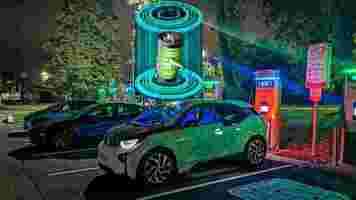 That's mainly because current battery management systems can obtain little information from a battery, and with poor real-time capability. They also can't store or process large amounts of data during the operation of a vehicle.
But don't lose your hope just yet, because digital twin tech could actually be a huge game-changer.
Basically, a digital twin is a virtual simulation of a physical asset.
So in our case, we have an EV battery and a virtual replica of it that's linked to its physical counterpart.
Simply put, what's connecting the real battery with its twin is the transfer of data and information.
The digital twin uses sensors to receive two types of information:
Real-time operational data
Past usage data
With this information the virtual simulation can get an all-encompassing representation of the battery's variables: usage patterns, environmental conditions, current performance, temperature, state of charge, etc.
As a result, the digital twin can produce a very accurate replica of the conditions inside the battery pack — in other words, it can mimic the battery's behavior.
Most notably, though, the twin can analyze the historical and real-time battery data with machine learning algorithms. That way, it can make predictions about the operation of the battery pack and compute control parameters that can be fed back to the battery management system.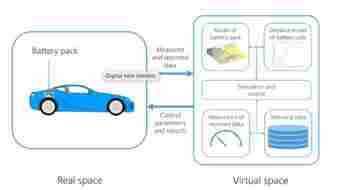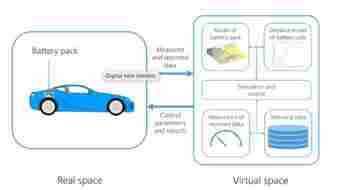 The digital twin is key to gaining complete control of the battery with easy information availability and accessibility.
First up, it can send back to the battery control parameters that adapt the function of the battery pack to the status of the battery, the driving profile of the driver, and the current operational and driving conditions.
It can also send feedback to the battery pack and the driver about projected future operation and behavior of the battery. For instance, it may send parameters that limit the maximum current during braking if the temperature shows a risk of overheating.
As a result, the digital twin offers insights, recommendations, and tools that can not only optimize battery behavior and performance, but also predict battery life and potential breakdowns.
As you can imagine, digital twin tech can very well be the holy grail of EV batteries, so there's indeed a number of companies working to implement it.
The most astonishing advancement so far has been achieved by the Real-Time Electrical Digital Twin Operating Platform (REDTOP) project, led by battery analytics firm Silver Power Systems (SPS) in partnership with Imperial College, the London Electric Vehicle Company (LEVC), and JSCA, the research-and-development arm of the Cornwall-based Watt Electric Vehicle Company (WEVC).
The ninth-month project gathered data from 50 LEVC TX range-extender taxis and a WEVC coupé electric sports car, which travelled collectively over 500,000km.
Each vehicle was equipped with SPS's own data-collection device, which communicates over-the-air with the company's cloud-based software.
The collected data was then analyzed by the company's EV-OPS battery management platform and processed by Imperial College researchers.
In September, Silver Power Systems announced that the project has succeeded in creating the "world's most advanced digital twins of actual EV batteries," which could offer not only an accurate view of real-time battery performance and state-of-health, but also the potential to predict battery lifespan.
The next big step will be applying the tech to commercial electric vehicles.
HT – Chinese Journal of Medical Engineering , COMSOL , ION Energy
Do EVs excite your electrons? Do ebikes get your wheels spinning? Do self-driving cars get you all charged up?
Then you need the weekly SHIFT newsletter in your life. Click here to sign up .