When to Use Photoshop, Illustrator, or InDesign
You'd don't use a screwdriver to hammer in a nail, and you do not use a hammer with a screw. I mean, you might be in a situation where you #lifehack, but overall, you use certain tools to accomplish certain tasks. The same goes for Adobe Creative Cloud: Photoshop, Illustrator, and InDesign.
Each piece of software in the Creative Cloud serves a purpose. While there are thousands of articles online teaching you how to make an e-book using Photoshop, you are essentially using the wrong tool for the job. Your results will never quite look as right as if you used the correct software (InDesign).
Photoshop
Photoshop is a photo editing software, a pixel-based program. It's great for animated gifs, mockups of products or printed work, photo manipulation, and photo editing (color balance, brightness, saturation). Photoshop tends to be the most familiar piece of software.
Use Photoshop for photographs, blog post and social media graphics, collages, and mood boards. Do not use Photoshop for any graphics, logos, text-heavy documents, text layout, etc. When you scale Photoshop files, you lose quality.
Logos and media kits created in Photoshop will NOT be as crisp and formatted as beautifully as if they were created in Illustrator and InDesign, respectively. Using Photoshop to create any text-based or logo-based graphic will significantly limit you as well as impact the quality.
Illustrator
Unlike Photoshop, Illustrator is a vector-based program, ideal for creating logos, illustrations, patterns, icons, and infographics. A vector is an image or graphic that if you stretch really big or really small, it will not blur because it is based on mathematical formulas. For most of my studio work, I use Illustrator. With Illustrator, you can create graphics that are crisp in clean no matter how you scale.
Use Illustrator for logos, patterns, and icons. Do not use Illustrator for any photo-based or text-heavy documents. I use Illustrator for Notecards and Business cards because I'm so familiar with the platform that I prefer it over InDesign. It's also easy to adjust Illustrator documents and specs.
InDesign
Where Photoshop and Illustrator are distinctly different, InDesign plays nice with both pieces of software. InDesign allows you to easily drop in photos, crop and create simple illustrations and shapes, along with page options (absent in both Photoshop and Illustrator).
Use InDesign for type-heavy documents such as media kits, resumes, e-books, brochures, flyers, print files, text wrapping and multiple-page documents. You do not use InDesign for creating logos or editing photographs. Think of InDesign as where you put together both Illustrator illustrations and Photoshop graphics.
What You Need
For most bloggers, the Creative Cloud package that includes only Photoshop and Lightroom suffices their needs. Photoshop is used for creating blog post and social media graphics, and Lightroom is for batch editing lifestyle photographs. Nevertheless, you might find yourself needing to use Illustrator or InDesign. Creative Cloud also offers a free 7-day trial, so when you are ready to play around with a different platform, take full advantage of the trial!
Canva is a very popular, free, tool used for blog post and Pinterest graphics. However, I am not a fan. You just can't do as much with Canva as you can with Photoshop. I truly believe that your photography and blog posts are what will elevate your blog and brand, so taking the time to learn basic Photoshop and Lightroom skills will go a long way.
For more about design basics — click here.
Adobe Illustrator vs Adobe InDesign
I dislike how cramped the software can feel even with the option to change around were things are located stuff just seems to be lost easily.

I hate having to pay to use it. I only use the program occasionally, and I have to sign up for a whole month to use the thing for sometimes only a few minutes at a time, every few months.
Illustrator vs InDesign: An Ultimate Comparison (2022)
Introduction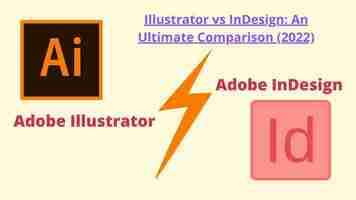 The question of is itself very difficult to answer, which has made it even more difficult to draw an analysis between Illustrator vs InDesign. A better comprehension of contrasting designing software is the first step toward completion of the efficient, creative projects. By contrasting two excellent software products, let's explore both of them in detail and dive in together to find the answer of that difficult yet a question on merit.
Adobe InDesign and Illustrator both have their own set of useful design features. Here's a quick overview of each software, followed by a detailed analysis of their similarities and differences.
Illustrator
The official name of Illustrator is "Adobe Illustrator". It was created in 1987 by John Warnock and Charles Geschke as a vector graphic design program. It allows you to create illustrations, diagrams, and logos. Vector graphics uses paths instead of dots (or pixels) like Raster-based graphics. The distance between the paths is calculated using an algorithm, so if you scale an image it doesn't distort. The Illustrator's pictures have the ability ro scaled and rescaled with ease.
Following is the main user interface of Adobe Illustrator for your reference and comparison. This way, you can compare Adobe InDesign with illustrator. This will also help you to understand the concept of Illustrator vs InDesign.
Fig. 1.2 Adobe Illustrator User Interface (UI)
The best part about working with Illustrator is that everything you make is scalable. That is, you may enlarge the object without losing the image's resolution. The programme is excellent for producing logos and all sorts of graphical work.
InDesign
Fig. 1.2 InDesign User Interface (UI)
InDesign is another wonderful innovation from the house of Adobe. It was created to print and make digital layouts. It's also a vector-based program, designed and created in 1999, to render a page layout program. You can create magazines, interactive media, e-books, and more in this software program. The software is perfect for creating uniform page layouts across large and multipage documents, mainly focused on publishing.
It is very important that you remember this basic difference between these two creative software programs. InDesign deals with the publishing-oriented setups, whereas the illustrator is for creating graphics designs using the vector approach. This is the major and main difference between them, and that difference can be used to define your role.
InDesign has many features, including its intuitive toolbox (Fig. 1.2) with multiple tools. Some of these tools let you select, edit, and create page components. Other tools let you select type, lines, shapes, and gradients; InDesign is like a fusion of publishing and designing but mainly focuses on its design components. The distinguishing feature, of InDesign, allows you to extract resources from an image that inspires you, like colour palettes, shapes, or typefaces.
Illustrator, on the other hand, has more drawing features than InDesign. Drag-and-drop editing using tools like Selection, Pen, Curvature, and Layer allows you to swiftly create distinctive designs. The "Recolour" and other software like that powered by AI can also work as the above-mentioned software do, but they have their own limitations.
Illustrator vs InDesign
Price
Pricing for both software programs is the same. It depends on what do you want to get from your project. For instance, if you are a graphic designer and want to create vector-based graphics, designing logos, brand kits and anything in the domain of graphic designing other than publishing, then Adobe Illustrator is the one that want to invest in.
But, however, if you deal in publishing business or represent a publishing industry, digital as well as print, then you should go for Adobe InDesign as this software is just best and works great with your demands.
Publication vs Illustration:
The basic difference between these two software programs, is intuitive and based on the purpose of their creation. As the name 'InDesign' suggests that this software is for the designing purposes. This is true that this software is manufactured for the sake of publishing and designing publishing related projects. It works best with the vast and ever emerging publishing (print and digital) industry. This is one of the best software if you are looking to complete your designing and publishing project. For example, you can design the book coves, compose and design and print e-books, magazines and all sorts of publishing related material.
Illustrator has the capacity to handle the designing and publishing, but that is not the reason this software was created. The sole purpose of the software, when created, and even today, is to create, draw the illustrations in Scalable vector format. The difference at its core lies in the concept behind its creation; creating illustrations, designs, vector based art.
Also Read: What is Pen Tool: Everything you need to know about.
Third Party Integration and Compatibility:
InDesign is flexible when it comes to integration and third-party management. In other words, InDesign is a powerful piece of software for designing that enable the publishers, and the artists to work with other applications outside the domain of the official Adobe InDesign platform. For example, "Brightspot" is a Content Management System (CMS) that is famous for publishing in the media industries. This CMS can be integrated with the InDesign to create streams of workflows and make the work and user experience easy with minimum effort and hustle.
Similarly, Illustrator also third party agile. The ability to integrate with third party software and applications made it even more successful in the annals of digital artists and the graphic designers.
Both software programs are best with third party integration, and they are also good when it comes to compatibility with other apps and with the other devices. However, the only limitation for both software is that they, like all the Adobe products, cannot work with Linux operating systems whatsoever.
Supporting multiple File Formats:
Adobe InDesign, as mentioned above, is a publishing-oriented software that can work with other file formats used in the publishing industry. Illustrator, on the other hand, is loaded with a number of supporting formats. If you want to work with PSD (Photo Shop) file, or you are planning to import AutoCAD files to the Illustrator for any reason, this amazing software can work with these and many more file formats very easily. This is yet another benefit of working with Adobe Illustrator.
In this regard, Illustrator vs InDesign, Illustrator might be the best option if you are working with different file formats.
User Friendliness:
In a true sense, the user-friendliness points go to the InDesign because of its limited utility and publishing goal-oriented objectives. No doubt, you can create designs and vector-based shapes in InDesign, but the software doesn't give you all the options that Illustrator offers. If you compare the Fig.1.1 and Fig.1.2, you will see the difference clearly. If you compare the interface of both under discussing software, you will easily spot the difference even with a single glacé on the toolbars of InDesign and Illustrator.
Similar to that and based on the same logic, Illustrator interface is heavy, loaded with different options to create art in a literal and creative sense.
The similar feature of both software is that they both have templates that you can use and play around. This is one of the best ways to learn and develop a deep know how about the software. So, I think, this is one of the major similarities in both contrasting software.
Cloud and Work Collaboration:
Adobe Creative Cloud has made the work for the artists much easier and simpler. Instead of working alone and sending copies of work over and over again. That practice not only wasted time, but also required extra efforts from the artists and the graphic designers. Because of Adobe Creative Suite, in Illustrator, you can easily collaborate and work with your team, across platforms. This feature gives an enormous advantage to the artists and the designers to work in a collaboration. Secondly, this feature also allows you to work anywhere over multiple devices, whenever and wherever you want. It's as easy as carrying your work with you.
InDesign has an advantage here in this regard re it allows the user to collaborate and work inside its interface. You can use its "Coedit" feature to edit and compose your ongoing project. It gives an easy to work without leaving the application again and again to collaborate with the team and the members working on the same project.
Whereas, in Illustrator, no matter how much Adobe Creative Cloud its power and advantages has, it doesn't just beat this amazing feature of collaborating while not leaving the primary interface of the software.
Conclusion
Nevertheless, both software programs are of the state of the art and work just perfect in their respective roles. It is very important that you know what you want from them and then select one which serves your purpose in the best possible way.
In my opinion, Adobe Illustrator is one of the best software that I have ever worked with, but again, my opinion is based on the utility of the software; creating every type of vector-based graphics that never gets blurred nor gets distorted due to the algorithm of its scalability and the concept of vectorization of the design, instead of raster-based images.
InDesign is also a great piece of software but with limited set of options than the Adobe Illustrator. This has its own advantages; the simplicity and the task-oriented design made InDesign more user-friendly, easy to learn and convenient to work with. As beginner, or a person that intend to learn InDesign, can learn the software with some practice and trial and error basis. On the contrary, Adobe Illustrator with all its toolbar and other complex tools, made it extremely difficult for the beginners to learn the software on their own.
For more, please visit: An Online Art Supplier