This article was originally published by Christopher Carey on Cities Today , the leading news platform on urban mobility and innovation, reaching an international audience of city leaders. For the latest updates follow Cities Today on Twitter , Facebook , LinkedIn , Instagram , and YouTube , or sign up for Cities Today News.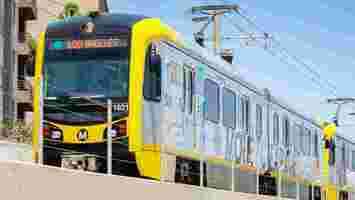 The Federal Transit Administration (FTA) has granted the Los Angeles County Metropolitan Transportation Authority (Metro) a Record of Decision for its East San Fernando Valley light rail transit project, certifying that the scheme has satisfied federal guidelines for environmental analysis.
The decision paves the way for the authority to seek federal funding for the design and construction of the 14.8-kilometer project, which will connect the Van Nuys Metro "G" (Orange) Line Station with the Sylmar/San Fernando Metrolink Station.
"The East San Fernando Valley Light Rail project has been one of my top transportation priorities since I was elected to the City Council," said Metro Director Paul Krekorian.
"This critical backbone project will be the first light rail line in the Valley, connecting communities, revitalizing neighborhoods, reducing congestion, and improving air quality. Last month we pushed the project forward with a US$30 million (£21.7 million) investment in utility work to expedite construction.
"Now, with the Federal Transportation Authority's Record of Decision, this line becomes eligible for federal funding opportunities, and we are well on our way toward full funding and completion of the foundation for the future of transit in the San Fernando Valley."
The light rail line will travel primarily along Van Nuys Boulevard — one of the Valley's most heavily traveled corridors. Metro received the State of California's environmental clearance for the project last December.
With an end-to-end travel time of 31 minutes, daily boardings are anticipated to exceed 30,000 by 2040.
First/last mile
Metro has also developed a first/last mile plan for the project that identifies improvements to make it safer to walk and bike to and from the 14 planned transit stations.
The authority will work with the City of Los Angeles to identify an improved first/last mile parallel bike route to replace existing bike lanes on Van Nuys Boulevard that would be removed by the project in Panorama City and Pacoima.
"The East San Fernando Valley Light Rail Transit Project is just one of several major transportation improvements we have in store for the San Fernando Valley," said Metro CEO Phillip A. Washington. "It just happens to be the first one to go into construction as we deliver on our promise of better mobility for Valley residents."
The project will officially begin major construction in 2022 and is scheduled to open by 2028.
SHIFT is brought to you by Polestar. It's time to accelerate the shift to sustainable mobility. That is why Polestar combines electric driving with cutting-edge design and thrilling performance. Find out how .
Buying a second-hand EV? Do these 5 things first
Welcome to SHIFT Basics , a collection of tips, explainers, guides, and advice to keep you up to speed with mobility tech.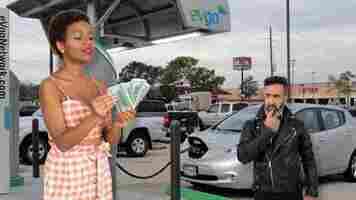 While owning an electric vehicle is still far from the norm in most of the world, they've been around long enough for there to be a decent amount of options now available on the second-hand marke
Buying a used EV isn't exactly the same as buying a regular used car, and there are some things to be aware of. Assuming you've already decided what EV you're going to buy, here are five things to consider before you part with your cash.
Check its battery health
This is the most obvious one of the lot, so let's get it out the way first. If you're buying a used EV, be sure to check its battery health.
You want to be sure it charges correctly and at optimal speed. You also want to make sure you know how much charge the battery can hold, and how that will affect its total range. To learn more about EV batteries, check out this helpful explainer .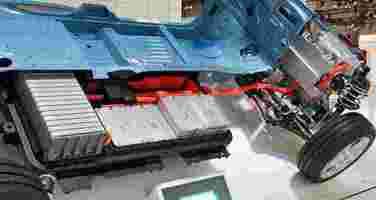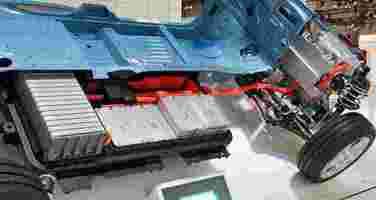 Early EVs, such as passively cooled Nissan Leafs, are known to suffer some battery degradation, and could have lost as much as 8% of range over 10 years. The older the EV, and the more charge cycles it has been subject to, the more likely that its range has decreased slightly from when it was brand new.
As technology improves, battery degradation is becoming less of a concern , but if you're buying an EV that was made in the past 10 years it's definitely something to check. If the battery is beyond its useful life, it can be replaced, but it doesn't come cheap, that's assuming you can find someone to do the work .
Get up to speed with how it charges
Before you buy any electric vehicle, new or used, it's important to know exactly how it charges. Also be sure to check what cables come with the car, and what chargers they're compatible with.
If it's your first EV it makes sense to get a dedicated charger installed at your home if you have space. Most manufacturers gave grants and subsidies for new EV buyers to install charging hardware at their homes, but no such subsidies exist for second-hand electric vehicles.
Check out our other SHIFT basics which explain fast-charging standards CCS and CHAdeMO .
Dive into warranties
Depending on the EV that you plan to buy, you might be able to acquire or extend its warranty. EVs typically have separate warranties, one that covers the battery and drivetrain, and another that covers the mechanical components like suspension and chassis.
In some cases, an EV could have an eight year or 100,000-mile warranty on its battery, which can be transferred to the vehicle's next owner so long as the vehicle itself still satisfies the criteria.
There's also the possibility to buy third-party extended warranties, if you want peace of mind and are willing to pay for it. But first things first, check what warranty the used EV actually comes with, and take it from there. Chances are it'll still have a decent amount of time left if you're buying a low mileage car that's not too old.
Check its service history
Even though EVs have far fewer mechanical components than combustion engine cars, and are — generally speaking — less likely to go wrong, they're not immune to the occasional hiccup.
As with buying any used car, you should check the vehicle's service history. Pay special attention to any significant work that may have been done in the past to fix broken components. Also consider what the implications could be if that component fails again — is it covered by the warranty or will it leave you out of pocket?
In reality, this shouldn't be an issue with buying an EV, but it's always good practice to know exactly what you're buying and to research its history.
Go over the basics
Even though electric cars have significantly different drivetrains to combustion engine vehicles, there are still plenty of similarities.
Before you buy an EV it's important to check the condition of components like windshield wipers, wash fluid, headlights and brake lights, and, tire wear and alignment.
Be sure to take the car for a test drive, and test all its functions and press all its buttons. It's also worth paying particular attention to how the brakes work to check they haven't seized.
EVs have regenerative braking, which uses the magnetic resistance of the motors to slow the vehicle and convert kinetic energy back into electrical energy to charge the batteries. Depending on how the car has been maintained and driven, it might not have used its brakes all that much. Chances are the discs and pads will be in great shape, but it's best to check they're not seized through lack of use.
Now go and buy that EV, and hit the open road! Welcome to the electric club.
SHIFT is brought to you by Polestar. It's time to accelerate the shift to sustainable mobility. That is why Polestar combines electric driving with cutting-edge design and thrilling performance. Find out how .
Beware, Musk and Bezos — Porsche is joining the space race
Celebrity scumbags billionaires like Musk, Bezos, and Branson may feel they own space, but they have an unexpected rival: Porsche.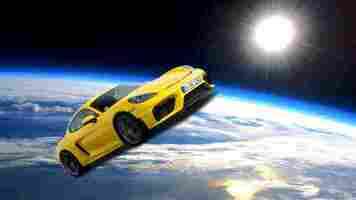 Yep, the car maker is investing in German rocket start-up Isar Aerospace in an attempt to ensure access to new space-based technologies, the Financial Times reports.
The company is joining a group of new investors, HV Capital and Lombard Odier, by putting down $75 million, which brings the total Series B funding round to $165 million.
Despite its low profile, Isar aims to compete with Elon Musk's SpaceX and Jeff Bezos's Blue Origin by offering (relatively) inexpensive low-earth orbit satellite launch services.
This year, the company began manufacturing its Spectrum rocket, which relies heavily on automation and 3D printing to reduce production costs.
Spectrum is a two-stage launch vehicle, specifically designed for satellite constellation deployment.
Its payload capability can reach up to 1,000kg, and its multi-ignition second-stage engine can inject payloads directly into orbit.
I'd say it's a long shot.
Isar was founded just three years ago and since then it's raised the relatively low amount of $180 million in funding.
It's also never sent a single satellite to space.
On the upside, in May, Isar became the first private European company to secure a contract from the European Space Agency (ESA), when it was awarded with $13 million by the German Government to launch two satellites into orbit.
The company's also planning to develop reusable rockets in the future, which would give it a huge advantage as this specific tech is still lagging.
Nevertheless, we need to wait for Spectrum's launch later in 2022 before we can make safer conclusions.
Here's what Lutz Meschke, a Porsche executive, had to say:
It goes without saying that the traditional industry that interests Porsche is the automotive sector.
As cars become more and more software-centric, successful space tech could also be brought from the stars to the earth.
Besides that, we all know that GPS systems are based on satellite data, which means that direct access to satellites could enhance the automaker's navigation and even parking systems.
Personally, I doubt that Isar has a chance to seriously rival SpaceX and Blue Origin — at least for the next decade — but my guess is that this is only the beginning for brands' investment into space.
Do EVs excite your electrons? Do ebikes get your wheels spinning? Do self-driving cars get you all charged up?
Then you need the weekly SHIFT newsletter in your life. Click here to sign up .