We're starting to feel like we're talking about a new feature on WhatsApp every week, but it certainly seems to be the case! This week is no different, and we've had another leak that will soon affect your favorite messaging service!
The source of the leak again comes from the WhatsApp translations center , where the company introduces the future changes of the app. It doesn't take long to work out what a new feature could entail just by looking at a few new phrases sent by the company.
This time, it looks like WhatsApp plan to introduce a new answering machine to the platform that will allow your contacts to record a voice message if you fail to answer your WhatsApp calls . Here you can see a screenshot of the leaked translation to see where people are getting this idea from: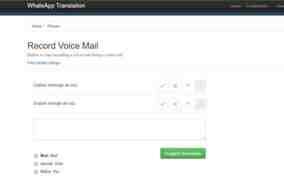 It is still yet unknown as to when we can expect to see this feature on our devices, but we expect it'll make an appearance around the same time as they launch the video calling feature . What will happen next week?