Windows 10 has been doing well, yet there's still just one big challenge that lies ahead: to annihilate one big giant.
In the case that you may be reading this with somebody who isn't a fan of Windows 10 (or maybe it's yourself?), and gets slightly annoyed when they discover more of, then it's probably best they don't see the following data. The following pie chart indicates that the latest operating system from Microsoft has already been installed on more PCs than both Windows XP and 8.1 put together.
According to NetMarketShare , Windows 10 is currently operating on 11.85% of PCs. Not bad when you consider that Windows 10 was launched just six months ago. Now all that Windows 10 has to do is conquer that big giant: Windows 7.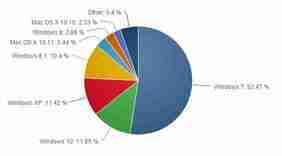 Do you think it can do it?
Source: Windows Central
Source of the article:https://www.sciencetechnologya.com/windows-10-has-a-big-challenge-ahead-to-conquer-this-giant